Clingo Universal Hands-Free Car Mount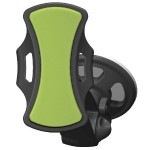 I find its looks to be minimalistic and stylish. It doesn't have big clunky clamp of the more traditional hands-free car mounts. I even like the garish green of the sticky pad. Speaking of which, I was surprised how well it grips my phone. I had to learn to 'roll' it to get it off!
The mount has worked well for me so far, (over three weeks) and has held up so far in to some warm days (~97F). I do worry how it will hold up when the hot weather rolls around.
I think a lot of how well the mount will work for you is based on the weight of the device you attach to it. I have always felt (as do most people who pick it up) that my HTC G2 is rather heavy. Even in its case (Hard plastic, but with a matt finish) the Clingo holds the weight of my phone with no problems. Google tells me the G2 weighs 6.5 oz (184 g). I routinely tap and swipe the screen of my phone with Navigation, Pandora and PlayerPro whilst driving, and it holds up well.
Be aware that whilst most of these type mounts have a flexible, goose-neck type arm, the arm on the Clingo is rigid and may not be suitable for all installations. This is made up for in part by the fact that the base of the phone mount itself is on a ball joint and can be angled in almost any position.
In my case the problem so far has been the suction cup mount. About once a week I need to carefully re-seat it to ensure it doesn't come loose going down the road.
Overall I have been pleased with my purchase, and have recommended the Clingo to my friends